Our services begin with pre-production meetings and brainstorming sessions with clients. We develop projects that are unique, creative and beneficial to the customer with respect to his/her target audience.

We create effective scripts that allow our clients to visualize the final product far before any video shooting begins.

If your production needs professional voice-overs or on-screen talent, MariJe Productions maintains professional affiliations with voice actors and screen actors.

Our video directors are compassionate and kind, allowing for actors, musicians and/or organization spokespeople to feel at ease and give their best performances.
We use state of the art digital video equipment for all productions. Our finished products are presented to clients in the format of their choice (ie, DVD, CD, professional tape formats, etc. We also create video files for use on the Web.).

Our Graphic Designers listen to the ideas of our clients and create visual concepts that compliment the original verbal concepts.

At MariJe Productions, art, quality, and fun all come together. If you don't believe fun and work can mix, this isn't the place for you.
At the Emmy Awards...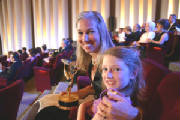 Marie Hulett (with youngest daughter) receives Emmy for PBS series.